Desiree Linden (nee Davila), after nearly DNF'ing in the early miles at the 2018 windy, rainy Boston Marathon, persisted to run with the lead pack. She gradually pulled away and won by more than 4 minutes in 2:39:54.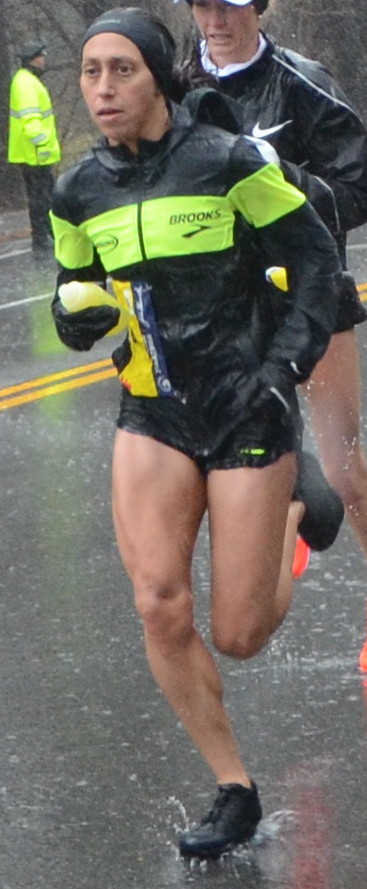 Des Linden near halfway point of Boston Marathon 2018. – By Gr5555 – Own work, CC BY-SA 4.0, Link
Desi, originally from Chula Vista, CA, competed in soccer, track and cross country in her high school years (1998-2001). Her Golden West Invitational performance capped her CIF California State Meet performances where the sub-5-minute miler was a finalist all four years. In both 1998 and 1999 she was 8th in the 1600m. 1999 saw her also attempt to double in the 800m, finishing last after being depleted from the 1600m. In 2000, she improved that to 5th. Her best finish was 4th in 2001 in the 3200m. In all but the 800m at the CIF she was beaten by Sara Bei (now Hall), also a GWI alum who continues a successful marathon career.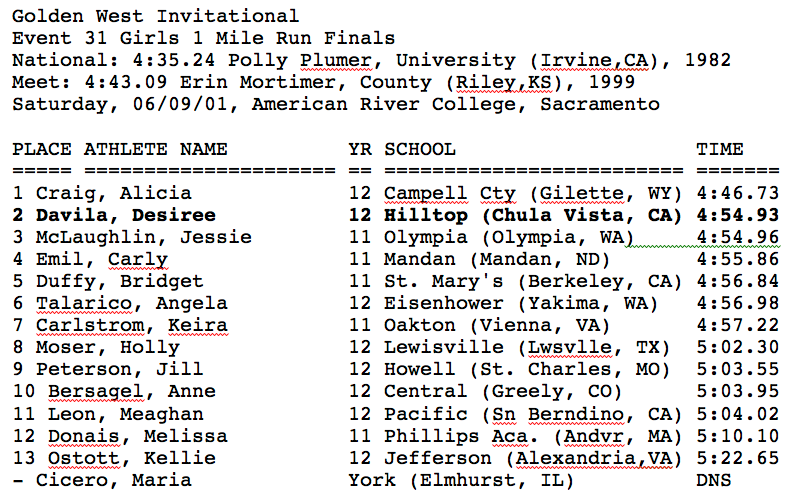 Linden studied psychology at Arizona State University, and was a two time All-American in track and cross country. Desi went on to compete in distance running nationally and internationally, including the 2016 Olympics (7th in 2:26:08). Her personal best marathon time is 2:22:38, when she placed 2nd at the 2011 Boston Marathon.

On 13 February 2016, Desi placed second, behind Amy Hastings, at the US Olympic Marathon Trials, finishing in 2:28:54 on a warm day in Los Angeles. By Trackinfo – Own work, CC BY-SA 4.0, Link