GWI Alums – 2016 Olympic Team USA Members
Compiled by the GWI Staff
Everyone likes to tally the Olympic medal count from participating countries. The Golden West Invitational Track and Field Meet, a national high school meet held every year since 1960, has a tradition of tallying the GWI athletes who went on to compete in the Olympics and how they fared. This GWI Alumni Olympian list is extensive and can be viewed on this page of the GWI website. It includes their GWI performances, and it is very interesting to see how much many of these athletes improved from their prep years.
Twenty GWI alums participated in the 2016 Olympics for a total of 9 medals (6 Gold, 1 Silver and 1 Bronze). Below are photos and a few details of the 2016 GWI Alums Olympic Gold Medal winners. Click here to view the complete 2016 GWI Alums Olympian List and all the GWI Alumni Olympians: 1964 to 2016.
Save the date:
June 10, 2017
for the
58th Annual GWI
!
Where Olympic careers begin!
GWI Alums 2016 Olympic Gold Medalists FYIs
MICHELLE CARTER – Shot Put Gold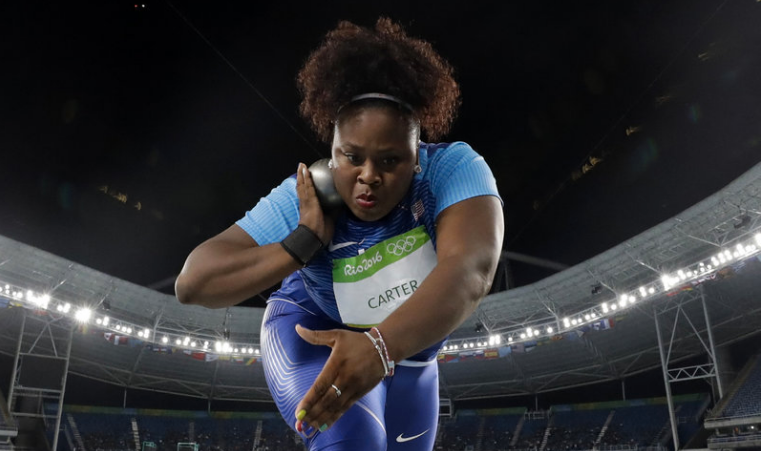 Photo Credit: Matt Dunham/AP
Competing in her 3rd Olympics, Michelle Carter's winning throw, a personal best, came in her last attempt (20.63 meters), upsetting the favorite, Valerie Adams of New Zealand (20.42 meters, second throw). Carter entered the record books with another fact: she and her father, Michael, are Team USA's first father-daughter combination to medal at the Olympics (1984, Michael Carter Shot Put, Silver Medal). This is a Golden West parallel: Michelle and Michael are the only father-daughter pair to hold the Boys & Girls Shot Put meet records at GWI.
ALLYSON FELIX – 4x100m Gold, 4x400m Gold, 400m Silver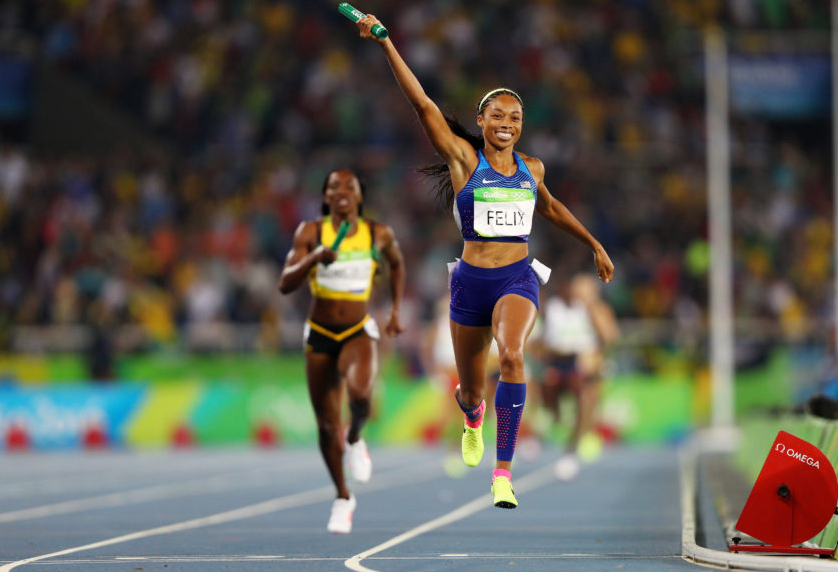 Photo Credit: Kirby Lee/Image of Sport
Allyson Felix took home three medals (2 Gold – 4x100m, 4x400m), 1 Silver- 400m) at Rio to become the all-time winningest woman in Olympic track and field with six golds and nine overall. Her 4x100m medal was nearly derailed when Allyson dropped the baton in her hand-off to English Gardner. Allyson claimed she was bumped by a Brazilian runner in the hand-off zone, throwing her off balance mid-exchange. Upon reviewing IAAF ruled that a Brazilian runner "obstructed" Felix before the botched handover, and awarded the U.S. a second opportunity to qualify for the final. It was to be a solo team re-run that same evening, and the team had to finish faster than the 42.70-second time of the slowest qualifier to advance to the final. Allyson's team finished in 41.77 seconds, the fastest time of the day.
CHRISTIAN TAYLOR – Triple Jump Gold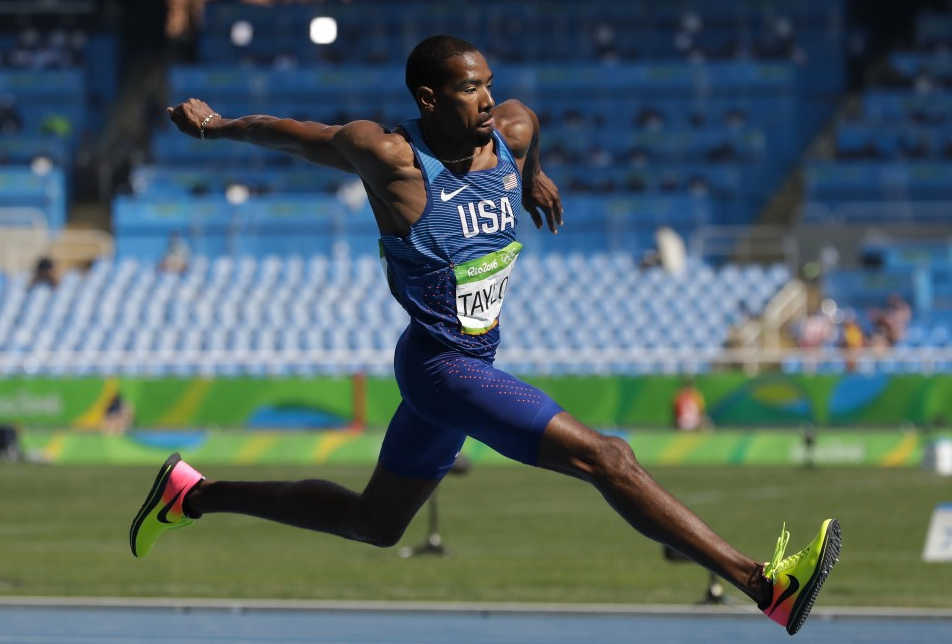 Photo Credit: Christian Reidel/AP
Christian Taylor's Gold Medal mark of 17.86 meters came on his first attempt. His teammate Will Claye cleared a personal-best 17.76 meters, also on his first attempt for the Silver. No country had achieved two consecutive Olympic Gold Medals in the Triple Jump since the United States in 1900 and 1904.
KERRON CLEMENT – 400mH Gold


Photo Credit: Christopher Hanewinckel/USA Today Sports
After his hurdling accomplishments at University of Florida 2003-2006, golds at the 2007 & 2009 World Championships, and a silver at the 2008 Olympics in Beijing (with a gold for the 4x400m) Relay, Kerron Clement failed to medal at any major competition from 2011 through 2015. He finished dead last in the 400m hurdles final at the 2012 Olympics in Beijing. His comeback started slowly, with a year-long break from the hurdles in 2014 and focused on the 400m. In 2015 he returned to the hurdles with a fresh perspective and finished 4th at the 2015 Worlds. Although his 400mH Rio Gold Medal time of 47.73 seconds narrowly beat out Kenya's Boniface Mucheru (47.78 seconds), he was dominant from start to finish, posting the best time in the semifinals (48.26 seconds), then shaving over a half-second off his time in the final to earn the gold. His personal best is 47.24 from the 2005 world championships and it is likely he will return to the Olympics in 2020.
ASHTON EATON – Decathlon Gold


Photo Credit: Doug Mills/NY Times
The decathlon has been contested 23 times at the Olympics since 1912. Ashton Eaton's second straight Decathlon Gold in the event places him in an exclusive club with Olympic legends Bob Mathias (U.S.) and Daley Thompson (Great Britain) as the only men to have won two Decathlon Gold Medals and twice earn the title of "World's Greatest Athlete." Eaton also tied the Olympic record with 8,893 points (1st – long jump, 10th – shot put, 18th – high jump, 1st – 400 meters on Day 1; 2nd – 110-meter hurdles, 8th – discus, 4th – pole vault, 18th – javelin, 3rd – 1500-meter on Day 2. Will Eaton go for a third Decathlon Gold in 2020, Tokyo? At age 28, he tied an Olympic record that stood for 12 years previously, so at age 32, why not? Teammate Jeremy Taiwo, 11th in the 2016 Olympic Decathlon, is also a GWI alumnus. He and Ashton both competed at the GWI in 2006, but not in the same events.